What's the difference between Gold Plated and Gold-filled?
Gold Plated - gold plating is a method of coating or dipping (plating) another metal (brass, silver, etc) with an extremely thin layer of solid gold. Gold-plated items are typically not recommended for those with sensitive skin, and the plating can eventually tarnish or chip away.
Note: We use handcrafted gold-plated cones for a few of our designs. We add an extra layer of anti-tarnish protection so the quality is higher and longevity of wear is longer than typical gold plated pieces.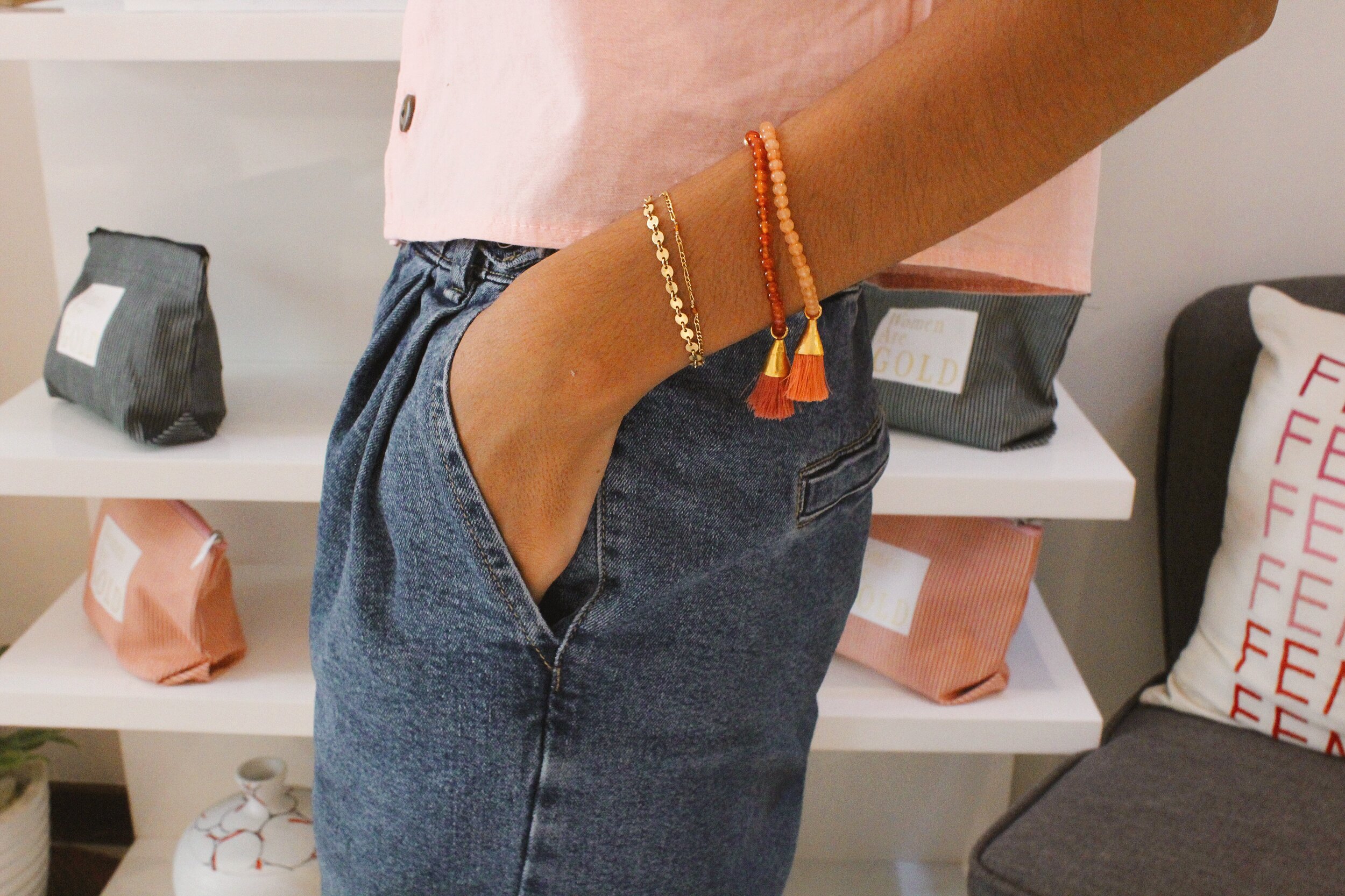 Beaded bracelet w/ gold-plated cone
Gold-filled - Gold-filled jewelry literally has 100% more gold in it than gold-plated jewelry. Rather than the gold simply being plated over another metal, it is pressure-bonded to a base metal (usually brass) and cannot tarnish or chip off. Gold filled is much more valuable and tarnish resistant that gold-plated jewelry. It does not flake off, rub off or turn colors. Typically, anyone who can wear solid or karat gold jewelry, can also wear gold-filled without worries of any allergic reaction to the jewelry. You can wear it in the shower, it is hypoallergenic, and has the same longevity and durability as karat gold jewelry, but at a much lower price point. It is because of all these great reasons we proudly use 14k Gold-filled materials in our jewels!
Karat Gold - 24k (100% solid gold), 18k (75% gold), 14k (58.3% gold) these are mixtures of solid gold with other metals and are the most valuable forms of jewelry. Typically the price depends on the weight and in most western countries, 14k & 18k gold are most common. Solid gold jewelry can be seen as an investment, is hypoallergenic, and typically will last a lifetime.